Moonchip Custom Sharing Icons and Custom Social Icons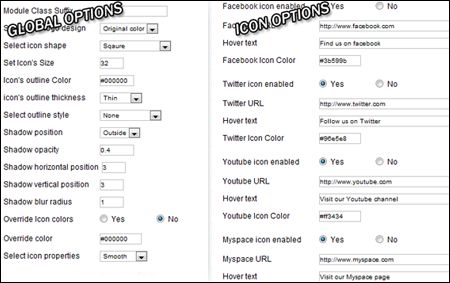 Custom Social Icons is a set of 2 modules, one is profile icons that link to your social network pages and the other (bookmarking icons) allows people to share link on their profiles such as Facebook.
The options in the backend to allow you to style the icons either globally or individually.
---
Get a color picker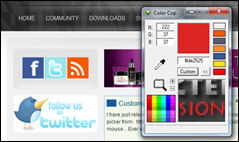 To create some icons to match your site, the first thing you need to do is get a free colour picker to help pick the colors, you can get one from here. http://colorcop.net/
With the color picker installed you can easily sample any color from your Joomla! site and get the hex values needed to color your icons.
---
Color your icons

After installation the icons look very basic, you could color the icons separably but I am going to color them all the same using the color override option in the back-end for this tutorial

Using the color picker I have sampled a grey color from the template and then colored all the icons the same.
---
---
Icon shape and properties

To change the shape of the icons under "Select icon shape" choose medium rounding.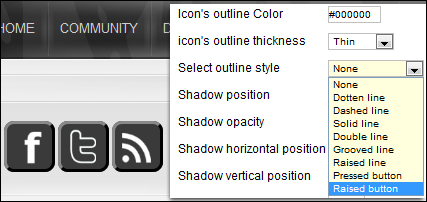 Now select an outline style, I've gone for the "raised button" effect and made it "medium" thickness I have also left it dark.

Now choose the "reflective" property which now gets the icons looking more web 2.0.
---
Drop shadows

Creating a drop shadow, you can control the position of it and the blur radius (makes it a sharp or blurry shadow) I also set the opacity to 0.2 to make the shadow very faint.
---
Millions of designs

Using the numerous option's and millions of colours avaialble you can easily create an icon set to match your site template.
All icons are fully scalable and here are just a small sample of the possible design option's you can create.
---

Moonchip Custom Sharing Icons Release 1.1.1 & Moonchip Custom Social Icons Release 1.0.9
(includes both modules)
Pay with PayPal, Debit or Credit Card
Please return to this page for a download link after payment, payments are made to Monka.
Click here to sign up for UK based web hosting