Moonchip Customisable Ad Positions
---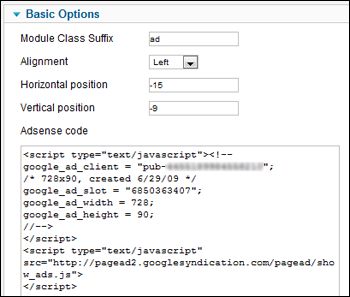 The Moonchip Customisable Ad Positions module has the ability to fine tune the position of the ads to better fit and align them in your joomla template.
Because it allows you to put the complete code into the box, you can add any ads you like not just google!
---
---
Controlling the position of your ads

After a basic install and pasting of the code the large 728x90 banner doesn't sit flush against the modules on the right top position and the extension listing below it.
---

I moved the banner -15 pixels to the left and -9 pixels upwards and now you can see it sits perfectly aligned in the position and looks clean and professional.So now I can use the position options to move the banner left and upwards pixel by pixel.
---

Moonchip Customisable Ad Positions 1.1.0
Pay with PayPal, Debit or Credit Card
Please return to this page for a download link after payment, payments are made to Monka.
Click here to sign up for UK based web hosting